FreeSound, the hygienic contactless headset
The FreeSound is a semi-open and contactless headset, designed and manufactured by RSF for museographic audio guided tours. This sleek-designed and robust headset combines listening quality, hygiene and opening to the visit environment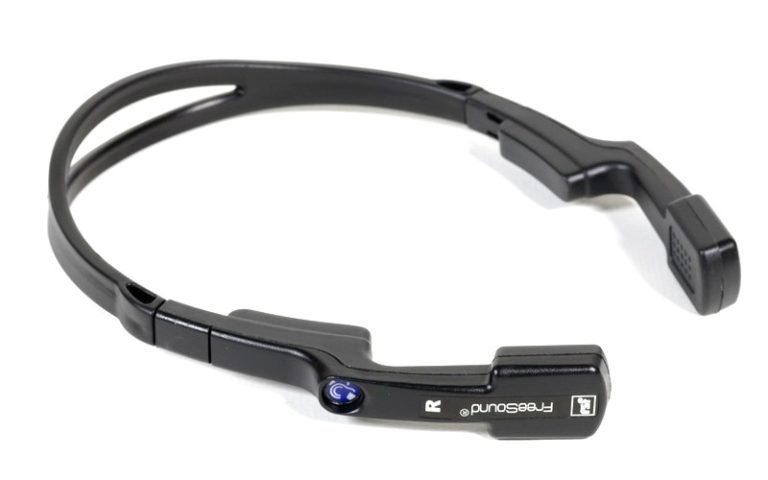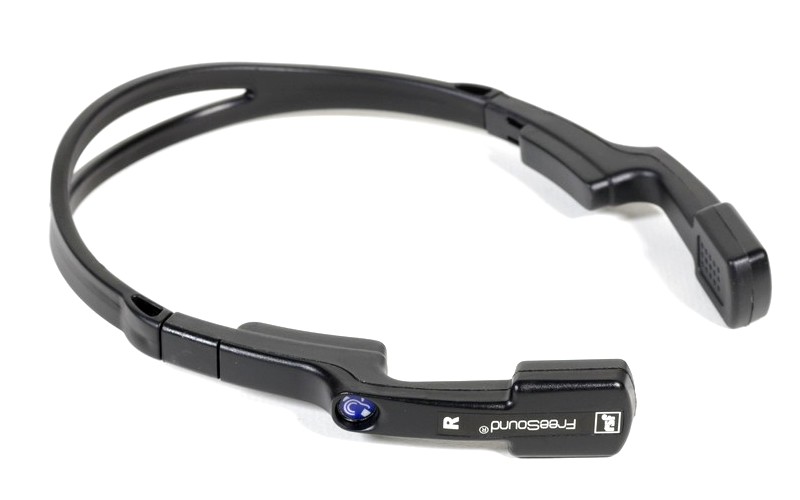 Freedom, robustness and hygiene
Lighweight (50g) and leaning above the ears, the FreeSound has no direct contact with the ear pavilions. Connected to an audio guide or a tablet, the FreeSound broadcasts the audio content of the museum tour while allowing visitors to keep listening to the atmosphere or to their relatives.
Without contact the FreeSound contributes to maintaining hygiene. Its shape and plastic materials have been designed and selected to be easily cleaned by the museum staff. Its mechanical conception gives it a good resistance to intensive use, to falls and also a durability appreciated by museums.
Designed for voice audio content

The semi-open conception of FreeSound headphones has been optimized to transmit voice. The tranducers deliver a directive quality sound directly to the ears. A sound equalization is already integrated in RSF audioguides to improve the musical rendering. We recommend to perform this equilization on the audio content when the FreeSound is paired to other brands audioguides or multimedia tablets.
The FreeSound integrates a magnetic « T » transmission technology and is adapted to hearing impaired using hearing aid.
Easily paired with any visit device

With a simple jack connection, the FreeSound can be used with any audio player. In museum tours, these are audio-guides from RSF or other brands, with which you would already be equipped, or even multimedia tablets or smartphones dedicated to the visit. Equipped with robust kevlar cable and jack connector, the FreeSound can also be used in fixed listening points.
Technical specifications and options

Weight: 50 grams
External dimensions approx.  17×13 cm
Female jack plug on the headset
Magnetic loop for hearing impaired
Head adaptor accessory for young children
Options male jack cables 2x  : 50cm, 90cm, 2m
Option male jack  – magnetic connector
Cleaning kit
Customer references

Lascaux caves, France
The Popes palace (Avignon, France)
Château de Chambord, France
La Cité du Vin (Bordeaux, France)
Outdoor touristic trains of Saint Malo, France
Le Ponant river cruises, France